Was gonna surprise MR with one of these for a birthday or something, but other musically-inclined folks might find these kinda nifty.
(Warning: This site has some great little geeky items, usually a bit useless or overpriced.)
Item 1: the Do-It-Yourself Guitar Pick Maker for $24.99.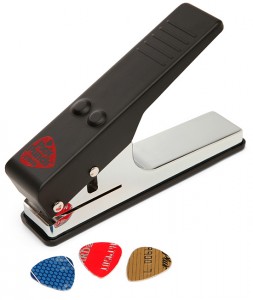 http://www.thinkgeek.com/product/e91b/?srp=1
Item 2: Recycled Vinyl Record Guitar Picks currently on sale, $2.99/6.
http://www.thinkgeek.com/product/ed65/?srp=2
Pretty clever!
(Actually, considering most musicians I've met, punching their VISA card into picks is probably doing them a big favor… and I can't think of a better end for a Yoko Ono album.)
A bit less utilitarian is a functional electronic guitar shirt, but the wearable mini-amp goes to 11!
http://www.thinkgeek.com/product/c498/?srp=4