OK Here's my opinion on the whole Missing Plane thing. ( I know no one asked for it but here it is anyway)
1st. I do not think the Malaysian Officials are Hiding anything, I feel that they are In so far over their heads that they don't know how to conduct this investigation and are too proud to ask the world "We Don't know what we are doing, will someone please take this over?"
2nd. I think that this is going to turn out to be something that no one has ever seen of thought of before. (Remember if you would have told us on Sept. 10th 2001 that someone would have used planes for what they did we would have said NO WAY.)
3rd. (Now for my rant) For those of our new members who don"t know me, I am a Over the Road Truck Driver who drives Coast to Coast, Border to Border. I have a device in my Truck Made by Qualcomm Corp. Called a Mobile Computing Platform Or MCP 50 aka. E-Log unit.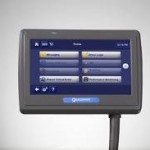 This technology is mandated by our friends at the Guvmint (You know those who have never done but tell us how to). It was because of the Griping and Lobbying of a couple of special interest groups who have also never sat behind the wheel.
With this unit my company can tell everything that my truck is doing at any given moment (ie: RPM, Speed, Temperature, Fuel Usage, how long I have driven etc.) It can also pinpoint my truck within a 50 Foot radius. and if this unit should fail meaning if it experiences a power loss within aprox 10 minutes I will get a phone call from my company asking "what happened?" (It did and I did). This unit uses Satellite Technology Not Cellular Communication. Satellite, You know those thingys that are flying around the Earth listening in on all of our phone calls and reading our E-Mails.
The beauty of this thing is it costs about $150.00 per unit and a monthly monitoring fee by Qualcomm Corp.
Now with that being said, Why does the current Aircraft technology have "Transponders, or Communication Devices " that can be disabled by someone on board the aircraft? There should be a system that Cannot be disabled or accessed from anywhere inside the aircraft.
Why is there a data system that can be defeated on board by either human or mechanical means? Why don't aircraft have something as simple as a GPS transponder somewhere on board that Cannot be accessed from inside the aircraft?
I'm tired of the aircraft/Airline people saying that "It would cost Millions to outfit aircraft with "Real Time Data, or positive communication technology. (Remember my little $150 unit)
And one last question/statement You mean to tell me that Someone on board did not have a Satellite Phone? My brother in Law whenever he travels abroad (which is a lot) Always takes a Sat Phone.
So why can't the Airline industry come up to date with the Heavily Mandated and Regulated Trucking Industry?