Since I'm going to be heading out of town on Thursday, and, as par for the course, I'm not packed and ready yet, I thought I would Post this Archive a bit early…. Since there was a request for "King Crimson", here's "Terraplane's" version of "Lark's Tongue in Aspic", and since this is an instrumental, I thought I would throw in our version of a "Jethro Tull" track called "Bungle in the Jungle" with Randy on Vocals…. These were recorded on August 26, 1975 on the OU campus live and outside between the Housing Towers….. These cuts are the most heard of any of our stuff, as I made a CD from them in 2000 for the band members and a few friends…. Again, this was recorded on my self-built HeathKit cassette deck placed about 100 feet out in front of the stage with two little cheap mikes (the good ones were on the stage)…. I made a direct copy of the cassette to a CD recorder – There was no tweaking, post editing, processing, compression…. What you hear is what the audience heard that day….
The personnel in "Terraplane" changed on occasion…. We'll call this one: Terraplane Main Version, as the bulk of our recorded output came from this line-up…. The members were Randy Stark: Lead Vocals, Moog, Flute – Roger Harrison: Vocals, Bass – Rick Lopez: Drums, Occasional vocal harassment of the audience and band members (in jest, of course) – Dan Rowell: Vocals, Lead Guitar, Guitar – MRambler: Vocals, Slide Guitar, Guitar, Harp….
Here's what the CD cover front and back looked like…. I'm going to have to run me off a copy as it seems PD Bob made a coaster out of the one I had (A-R-R-GH!)..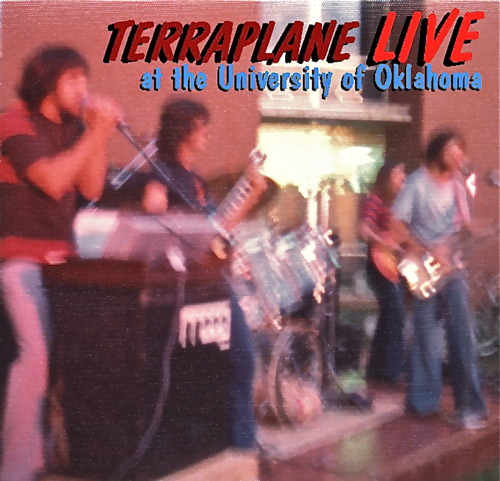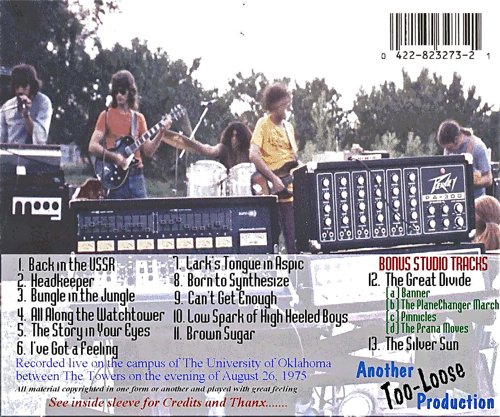 The back cover shot was from a rehearsal we did out on "The Farm" on N.E. 63rd St., Spencer, OK … I Might be talked into making a few extra copies if enough people indicate that they would be wanting to "Live in the Past"…. Of course, there would be a nominal fee – Too-Loose Productions doesn't run for free, you know (Ha!)…..