We all know the cover to the Beatles Abbey Road Album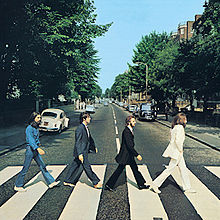 An interesting little bit of useless knowledge has come to my attention.
The photo was taken by photographer Iain Macmillan during a photo shoot on Friday 8 August 1969 the famous photo was taken at approximately 1100am GMT (London Time)
Not 24 hours later at 2355pm Pacific time 4 persons entered the grounds at 10050 Cielo Drive In Benedict Canyon Los Angeles, Ca on the orders of their leader/Guru/God Charles Manson and brutally murdered 5 people.
A strange twist of fate, The prosecution tying the motive for the murders to the Beatles and their music and that same day one of the most famous Beatles covers was being photographed.