For those of you new to our world, Jek, MR and some others have an annual outing called "Jojo Fest"
One of the first ones was in 2007 in Ft. Worth, TX. MR, and Robo drove down from MR Central in what would become known as "The Jojo Mobile"
Afterwards I purchased said vehicle.
Here's a Pic. JoJo Mobile
Well not too long after acquiring this fine piece of History, I saw a CD in a Truck stop with a pic on the cover of the Jojo Mobile. But alas I did not grab it at the time, and forgot who the artist was. When I stopped back by it was gone. (I Know I Know) circa 2010.
Fast Forward 2014
I finally saw the CD again and lo and behold it would turn out to be one of the hottest new artists on the scene today.
The Black Keys!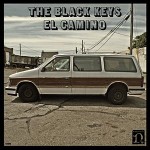 .
.
.
.
.
.
.
Pretty Cool Huh.
By The Way, A good album Check it out. One of the new bands that I can listen to.