It's crazy how much survives from '60s sci-fi. Found a reference the other day to an auction from a couple years ago. Details are sketchy, but I think this went for about $28,000. Looking a bit worse for wear, Balok is still around….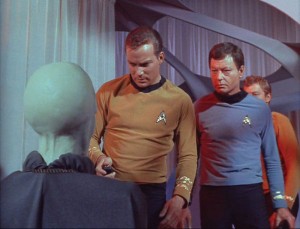 Reminds me of the discovery and restoration of the prop from the 1960 movie The Time Machine with Rod Taylor. This was brought to prominence a few years ago by its appearance on The Big Bang Theory (as Penny stated, unimpressed, "It looks like something Elton John would drive through the Everglades…")
A history of the prop can be found here: http://www.hollywoodlostandfound.net/props/timemachine.html
As someone who hates to throw old things away, I always like to hear about something iconic from a previous decade being found in an attic or warehouse and preserved. Stories like the Lotus from The Spy Who Loved Me being found and restored are so much better than stories like one of the DB5's from Goldfinger/Thunderball being stolen and still missing.