You can blame this one on Jek…… He suggested "Pancakes" as a topic in my previous post….. Maybe he remembered "Pancake Records and Tapes" in his subconscious since it was a long time ago or maybe he was talking about the eating kind….. Here's the "Pancake" story…..
We had recorded a few live concerts (including McCartney in 1990) and made a few copies for friends of what you could call "Bootleg Recordings"…. So-o-o, I came up with the name "Pancake Records and Tapes", a division of "Too-Loose Productions" as the recording company….. Jek and his then college mate, HuskySooner made a recording called "Water Police" under the name of "Thevenin" for a class they were taking….. So-o-o, naturally, I issued a cassette single….. Here's what it looked like on the "Pancake" label: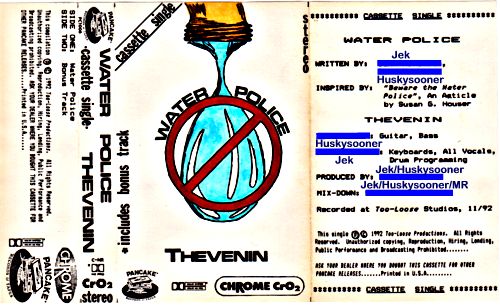 As you can see I blocked out Jek and HuskySooners real names, but I think most of us know who there are….. I even got my name (MR) in there on the Mix-Down (Ha!)…… Â Now, if you want to hear this classic, you'll have to request Jek and HS to give their permission and I'll be glad to post it up….. Also, if anyone has a pancake story (food or otherwise), now's the time to tell it…..