No, not one with four wheels or a health drink – an acoustic guitar pick-up…….. I was ready to lay down some acoustic guitar tracks for the song I wrote, but didn't want to use a mike because the old living room is not soundproofed from the noisy neighborhood and with 100+ temps, I wasn't looking forward to recording with the A/C off……. So, I was going through all my musical paraphernalia looking for my "Buffalo" pick-up I purchased in the '70's that you just stick-on near the sound hole with some poster putty…… I didn't find it, but I ran across the old DeArmond pick-up my dad used on his Martin guitar in the '40's…… I thought what the hell, I'll try it…… It works great and there's not even any noise in the volume knob like you get with new stuff that is only a few years old…… Not bad for a piece of equipment that's over 60 years old!…… Here's a pic of what it looks like in my 00-15 Martin….. It's the RHC model with the integral volume controller…… This is what every guitar player used to amplify their guitars before Leo Fender came out with his revolutionary "Broadcaster" electric guitar in 1948…….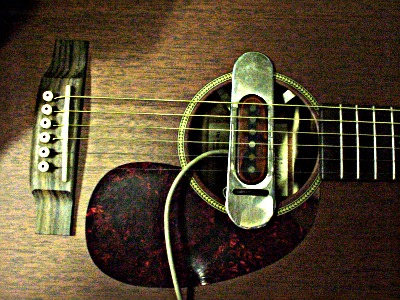 Here's a little history on Harry DeArmond:
Harry DeArmond (born January 28 1906, died October 12 1999) invented the first commercially available attachable guitar pickup in the mid 1930s. He established a working relationship with Harold 'Bud' Rowe's company to manufacture and develop these items. The company was located in a former schoolhouse at 1702 Wayne Street in Toledo, Ohio.
Initially there were two models for flat-top guitars (the RH and the RHC which incorporated an integral volume controller) and two for archtop guitars (the FH and FHC with a volume controller). Both types of pickup, initially called "guitar mikes", were passive electromagnetic, employing the same wide shallow coil shape with individual Alnico 2 pole-pieces.