Looks like Tokyo just got a great theme hotel. What's better than an overnight stay in Tokyo and seeing this from the window?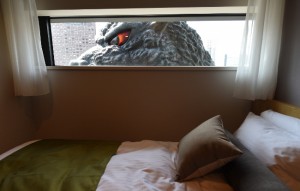 Fittingly built at the old Toho Shinjuku Theater Building, they stuck a life-sized head 17 stories up, and the hotel sports a few View Rooms for about $125/night, and a special Godzilla-themed suite for around $330/night.
Is it racist that I'd dearly love to visit, just so I can run out in the street in a baseball cap and glasses, point up and scream "Godzirra!!!!"?
Apologies for the music, but here's a vid with the inside of the hotel….
I think it's great when corporate development and municipal zoning embraces the lighter side of things!